Camiguin Island: Let Sleeping Volcanoes Lie
July 28th, 2009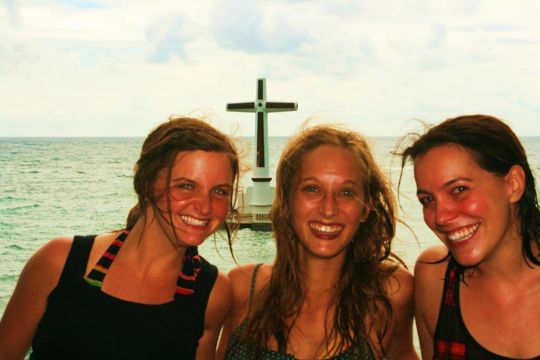 Enjoyed the most amazing weekend in what is called Philippines off the Beaten Track to meet up with another Kiva Fellow in Camiguin. It's a small island with more volcanoes than towns in the Southern Philippines. It's considered Mindanao (read: dangerous, don't go, scary) but really it was friendly and kind and small town and just the most remarkable place. I highly recommend visiting if you ever make it to this part of the world.
Just don't go during Holy Week! It's crazy packed there. I read during Holy Week there is a tradition called Panaad where Catholic faithful walk the Stations of the Cross up the mountain and around the circumference of the island, 64 kilometers, intense.
We visited the famous Sunken Cemetery – an old public cemetery was overcome by the sea when one of the volcanoes erupted in 1870 and it fell into the ocean. Today, the cemetery has an awesome large cross rising from the waves - we decided to snorkel around it. No, we didn't see any graves, actually the waves were aggressive getting out there. Quite possibly we were in danger, but I mean this is two girls who are living on their own in a foreign country - and a third girl we adopted for the weekend that is a Canadian teaching English in Korea - so it's hard to tell us what's "normal" amounts of fear vs. something that we're all like, "Hey think we can do that? Yeah, sure, why not?"
We went to gorgeous hot springs, we ate good meals, we bought cheap rum and found the one and only disco in the main town. We talked Kiva, microfinance, about our placements, nuances, just an opportunity to talk to someone else going through similar experiences, it was incredible and really, really needed.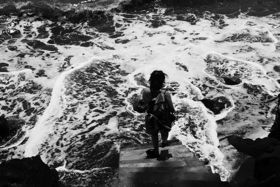 Most of all we laughed and laughed. All three of us decided we were way overdo for a good girls weekend of laughing and bonding and I have to say I'd go just about anywhere with those two dynamic and fabulous women.
Moral of the story, R&R was much needed and I feel amazing. Heading into another amazing week in the Philippines with Kiva and ASHI.
For more Things to do on Camiguin Island, look here
Read more ...
Kiss and Make Up
Women's Philanthropy Institute's Newest Council Member!
My Women's Equality Party Vote Is Dedicated To…
Road To 50
You're Invited! ASPCA Young Friends Benefit
... and more posts from the archives