A Nice Weekend in Laguna, Philippines
August 17th, 2009
As most of you know who have been reading my blog, it's been a very busy summer. I have met over 40 Kiva Borrowers, and at least 100 other Ahon sa Hirap. Inc members (more on these final metrics to come!), I've traveled around the Philippines to other islands, been connected with amazing change-makers in microfinance and in general loved my time here - both good, bad, in complete poverty and in upscale digs. It's been a diverse experience to say the least.
I have become friends with a lot of the ASHI staff, and on the weekends where I'm not going off to some island, they invite me to their hometowns, into their villages and never hesitate to include me. As a result, the last month I've spent most weekends with my new friends, figuring all those tourist "must-see" sights can wait. I mean how often can I go to a baptism, a town fiesta, a special glimpse into the lives of the people I work alongside with every day?
This weekend was no exception. I hadn't been to the Laguna Province of the Philippines yet. Em and Herme took me to meet Marie - a branch manager at one of ASHI's locations there - and also the place where we would be able to stay for the night in Santa Cruz.
[caption id="attachment_988" align="alignleft" width="204" caption="Map of Laguna Province in the Philippines"]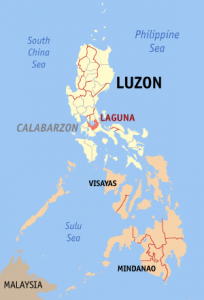 [/caption]We traveled up to Lilw - the shoe capital of the Philippines. Literally block after block of just shoes! My mom would have died and gone to heaven with the only exception that the sizes go up to about women's 7 1/2. I mean that's SMALL! I'm a 8 which is the U.S. is about as average as you can get and a lot of my favorite styles they didn't have. Shoes ranged from about 100 PHP to 270 PHP ($2-$5). I KNOW RIGHT. If only I knew the shoe size of more of my friends with as small as a child's!
We visited San Pablo Cathedral in San Pablo City. We went to the Underground Cemetery in Nagcarlan. We fiesta-hopped between two barangays visiting other ASHI staff members and members who welcomed us into their homes, fed us, and provided videoke fun.
There's much more to do in Laguna - but by Sunday night we were exhausted! We went to branch office to gather our things and head back to Cubao, Quezon City, where ASHI headquarters are and sitting in the branch office all crashed out.
I said to Em (Kiva Coordinator and awesome tour guide), "I really need a catnap. I'm going to lay down for just 15 minutes and then wake me and we can get going, ok?
"Ok," she says.
I go and crawl into one of the bunk beds, half covered in laundry. Too tired to ask to move it, I simply curl up in the other half of the bed and crash. Ninety minutes later I wake up with the feeling like when you've missed your alarm clock for work.
"Em! I can't believe you didn't wake me up! I said 15 minute catnap!"
"Oh I know," she says, "but you looked like you were a much bigger animal sleeping than a cat and I didn't want to disturb you."
And so it goes. Subtle language things that just make us laugh and laugh. We dragged ourselves to the last bus, a 7:30pm to Cubao, notoriously packed because of all the people from the provinces traveling back to the City where they work Monday-Friday. Sitting on the bus on the way back, I couldn't help but think how much I'm going to miss these weekend getaways, the endless food provided by the Borrowers, the routine we get into, even in foreign places, in foreign lands.
If you're in Manila and looking for a weekend getaway, I highly recommend Laguna! It's province living just a few hours away from the city and has all the sightseeing, waterfalls, exploration you could want.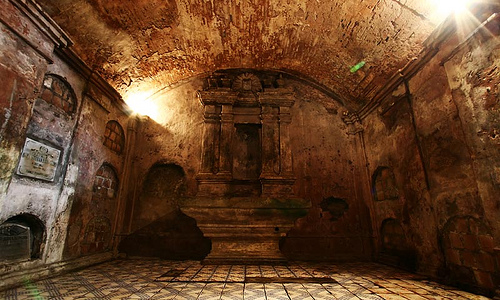 As for you Laguna, thanks for the memories!
Read more ...
Kiss and Make Up
Women's Philanthropy Institute's Newest Council Member!
My Women's Equality Party Vote Is Dedicated To…
Road To 50
You're Invited! ASPCA Young Friends Benefit
... and more posts from the archives