August 26th, 2010
Once a week this summer, come back to The Causemopolitan to read a guest post that will inspire you right up out of your seat to get involved and give back in a special series called Cause It's Summer! Featured bloggers will be sharing their own reflections and stories, tips and resources, and perspective on philanthropy, social entrepreneurship and their own cause-filled life. This week welcome Laura Hertzfeld who shares her personal experience volunteering with 826LA. It's amazing to think how your life can change when you dedicate yourself to giving back. Thanks Laura for sharing your story!
---
What do you get when you mix a whole bunch of LA writer types and a slew of creative kids with a space to mash words up, take pictures and share what's going on in their community?
I have lived in Venice, California since 2005 and while I spend my fair share of time drinking lattes at the fancy coffee shop and biking on the boardwalk, I also experience the neighborhood in a different way once a week – by spending time helping make a newspaper by and for the younger contingent of this diverse west side community.
The 826 writing centers were founded by author Dave Eggers as a space for kids, first in San Francisco, and now the 826 centers have expanded around the country and created a new model for tutoring focused on creative and expository writing stills, including 826LA, where I volunteer.
Schools make up the backbone of any community, but since I'm not a parent I have little interaction with the local educational system. Volunteering at 826 has given me a huge amount of insight into the successes and shortcomings of local schools. There are students at 826 from many different backgrounds, a wide range of educational resources at home, and a variety of types of schooling, including home school and private schools as well as the magnet and public institutions. Having a place beyond the classroom with volunteers who are accomplished in their fields and can spend one-on-one time with students can make a huge difference.
In the journalism program, students generate story ideas to create a monthly newspaper by and for young people in the neighborhood. They have interviewed Venice residents and covered topics ranging from the Green Dot charter school program to marble championships, from the Twilight book series to the benefits of vegetarianism to local skateboarding legends. Regardless of how difficult my day at work was or how tired I am, I never regret dropping my baggage at the door and spending a few hours a week with this group of students. They are motivated, savvy, and have great ideas they want to share about what's going on in our community.
Recently, we had our biggest fundraiser of the year – a Spelling Bee For Cheaters, which raised over $70,000! The highlight? A spell-off celebrity death match between Jimmy Kimmel and Spike Jonz. Who said fundraising can't be fun, too?
---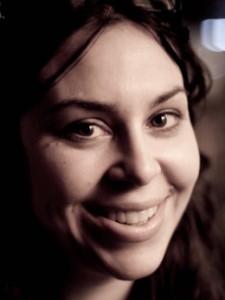 Laura Hertzfeld is a writer, editor, and producer with a passion for politics, pop culture and social media. She is currently working with Ashton Kutcher and popchips on social media strategy. Most recently, she consulted for the Public Radio Exchange (PRX) as Managing Editor of EconomyStory.org, a public media project about how communities around the U.S. are coping in the economic crisis. Laura spent 2008 covering the presidential election for PBS and prior to that was a senior editor at Yahoo! News. As a reporter, Laura has contributed to NPR's Morning Edition and written on a variety of lifestyle topics for publications and websites including PopTech, Los Angeles Magazine and Premiere. She holds a degree in history from Barnard College, Columbia University. Laura can be found on Twitter (@laurahertzfeld) and writing about cool news items on her personal blog,  News Junkie & Vagabond.
Read more ...
Kiss and Make Up
Women's Philanthropy Institute's Newest Council Member!
My Women's Equality Party Vote Is Dedicated To…
Road To 50
You're Invited! ASPCA Young Friends Benefit
... and more posts from the archives