31 Days Of Giving - Day 3 - Sevenly
December 5th, 2013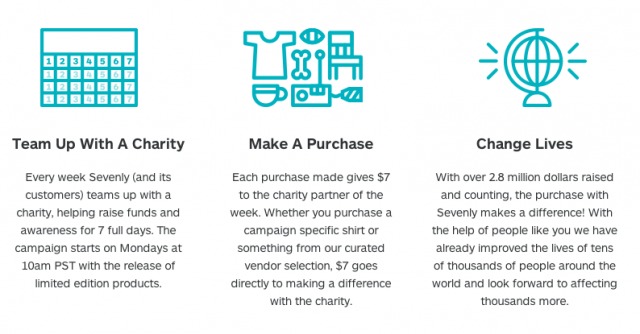 I am so excited to finally be writing about Sevenly, a social good company that I have been loving up on for awhile.
The concept behind Sevenly is genius. Every week a new nonprofit is featured on the site through a custom designed T-shirt. For every T-shirt that is sold, $7 is donated to that week's nonprofit recipient. Sevenly recently launched an expanded online store that includes other social good products with the same premise in mind. There are so many great holiday items to chose from, if you need holiday inspiration look no further!
As a sidebar, I simply have to include that Founder Dale Partridge is also a prolific writer whose blog I really admire and enjoy.
To date over $3 million dollars has been donated to charities. What an inspiration!

This week's featured nonprofit is Operation Christmas Child from Samaritan's Purse. More:
Operation Christmas Child, a project of Samaritan's Purse, is the world's largest Christmas project of its kind. Since 1993, Operation Christmas Child has delivered gift-filled shoeboxes to more than 100 million children in more than 100 countries. For many of these children, the gift-filled shoebox is the first gift they have ever received. Operation Christmas Child works with churches around the world to bless children and share the true meaning of Christmas and the Good News of God's love through Jesus Christ.
Support Sevenly and thanks for checking in on #31DaysofGiving! Who else should be featured this month?
Read more ...
Kiss and Make Up
Women's Philanthropy Institute's Newest Council Member!
My Women's Equality Party Vote Is Dedicated To…
Road To 50
You're Invited! ASPCA Young Friends Benefit
... and more posts from the archives