30 and Proud. How I'm Choosing To Own My Age & Other Musings.
October 14th, 2009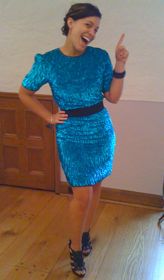 It's here. I'm actually truly 30. My 30th birthday came and went and I can't believe it. I also can't believe how incredibly public I've been about my birthday. I mean I'm a woman, aren't we supposed to hide our age? The following is my thoughts on that antiquated way of thinking and why I've never been prouder of my age.
I've lied about my age for almost my whole life. Until I was 21 I always wanted to be a different age. When I was 12 I wanted to be 14, then you want to be 16, then 18, and finally 21. Age, the number, has played a huge role in my life.
When I was a really little kid, my older sisters who I just adored, would say to me, "Don't think about age, just act how you want and that's how we'll treat you." So I learned that if I acted mature and knowing and was a good listener, I would be treated accordingly – which to me meant being treated older. My older sister's friends and I would have serious deep theoretical conversations about life, love and the Universe as far back as I can remember. Definitely by the third grade and by high school I knew that by acting around people how they wanted you to act, age became less important and it was more how you carried yourself that determined your age.
I was one of the youngest kids in my class always. I didn't get my drivers license until I was a junior in high school and graduated college at 21. I was always sensitive that I was younger than everyone else. I got my first fake ID when I was 16. Not really to buy alcohol, but more to see if I could get the ID at all which was secured on a trip to Washington DC where a shady video store on Wisconsin near M street had an ID section in the back of the store where you could get an "international identification" without showing any kind of ID at all. I had some kind of fake ID for the next 5 years. They would be confiscated from time to time, or borrowed or loaned, but the ones left over are sitting in a box somewhere. **The pieces of my borrowed time and race to 21. **
I liked the thrill and the chase of getting into bars as much as I liked the drinking in my pre-21 days. I dated a bouncer in town when I was a sophomore in college, I didn't need an ID that really worked for that period of time around Burlington, Vermont, I just needed something to show at the door. That could be a blonde from New Jersey, an expired license from a sorority sister, a common ID passed around amongst my friends of a Michigan brunette that looked like she could be any of us. I gave homework to another bouncer of my favorite bar from our Econ 310 class the beginning of my senior year when I was still 20, which worked out great. In the waning months before 21 there is "The Curse." The curse is that you're so close to 21 that the Universe conspired against you and now no ID, nothing you do, can get you into bars. It's terrible. I had gotten into bars for years with basically a smile and now it was impossible. What did I care to share my homework if it guaranteed, for at least one of the best dive college bars, that I could gain entrance.
When I came back from studying abroad in Italy for the second semester of my junior year still 20, I was looking around town for a job for some spending money. I passed a hip bar on Main Street. They were looking to hire. I walked inside and inquired about the position. It was for a bouncer. They were looking for a guy. "Can you really do that?" I asked. "I mean legally, if I'm interested in the job and can do it, shouldn't you hire me?"
"Well it's more than a bouncer, it's also a bar back at the end of night carrying cases of beer up from the basement. And sometimes drunken fools get into fight, how would you handle that?" The manager asked.
"I think the guys at the door are usually such assholes," I said. "Maybe if people were treated better in line getting in here their attitude would be better and there would be less fights. Don't worry about me, I'm strong, I can carry cases of beer." I responded.
I was hired on the spot and under the table. He never asked my age, I never offered it. We were both doing something illegal. I was the first female bouncer in Burlington and my friends were so amazed and jealous. I mainly used the platform to flip the switch on the whole "bouncers hitting on girls" scenario. I shamelessly flirted with all the boys, "Timothy, they call you Tim?" or "Jason, you're 5'10? You look so much taller to me." I'd laugh and throw my head back and stand on the step above the crowd, like a dictator before a crowd and to get to their rations they had to get past me. If trouble started inside, I'd walk up to the guys and go something like, "Wouldn't' it be so embarrassing if I had to kick you both out right now for being total douchebags?" The manager said on nights I worked there were almost no altercations at all and everyone was in a good mood.
I verified people's age for a job. I stood there and said, "You're 21, you're 21…YOU, I'm not so sure." Age is funny, isnt' it? It's so arbitrary but yet sometimes, it's everything. Eventually, the late nights got to me and I slid into a restaurant job, where I wouldn't be up until dawn every night and could place a larger focus on school.
Fast forward to my 20s. I tossed and turned trying to figure out "what I was going to do with my life." I was so worried I'd never find "my thing." What was going to make my life stand out and make it special to leave my mark on the world. Some people told me their 20s were the best times of their life, but increasingly I heard that things really started to come together in your 30s. That was when the pieces of the puzzle came together and you were more confident about your life. I had jobs. Some could have led to careers, and some were just jobs.
I fell in love. We moved to California to see what the West Coast had to offer us in a place where opportunity seemed to grow on trees. I built a life for myself in the wonderful land of Los Angeles. I sometimes felt my soul stretching so much my skin hurt.
In your 20s, there is a split. There are people who knew what they wanted to do and what they wanted to be and they had their medical and law school and leased cars and vacations to the Caribbean. And then there's us. Us of the "still figuring it out variety." Us of the sleepless nights and the secret prayers that our strike of lightening will hit soon and we'll have that aha moment too where we know what our thing is.
Last year at this time, I thought I had put the pieces together. It seemed I had my dream job at a company I really believed in. I had a boyfriend I lived with and a dog. I finally had upgraded furniture and had bought my first real painting at a silent auction for AIDS research. We went on vacation to Mexico. Everything, on the surface, had come together.
But for those who know my story, the picture was better than the real thing. And everything, in one way or another, came crashing down. I, in a moment of equal clarity and despair, decided to give it all away, give it all up and go off into the world to rediscover who I was and eventually, start over.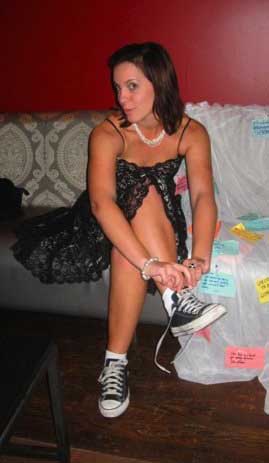 Well, ten months have passed now. I've jumped off bridges and scaled down waterfalls in South America. I've volunteered and dug in and discovered a place where I can see a future again in New Orleans. I lived in poverty taking bucket showers and meeting with women business owners through Kiva in the Philippines. I've traveled the country in a 7-day extravaganza raising close to $20,000 for malaria nets. I'm actively being asked to speak about my experiences and join panels and have received my first award from my high school and give my first guest lecture at an Ivy League school no less. Best of all and most importantly, it seems the hardship of being a spitting image of my mother and having a lifetime of competitiveness with her has faded away and I can truly now say we're friends. For the first time in my life she says to me regularly how proud she is of me. Me, the unemployed, homeless, single, 30 year old me.
I look back and I've rushed so much. Rushed so intently on having all of the answers all the time and defying age as a number because I thought I was better than some number on paper. I don't know what 30 is supposed to look like, or feel like. I certainly don't feel like the 30 I thought I would looking forward 10 years ago. And I certainly don't think I look 30, being blessed with skin like my mom's and not a wrinkle or gray hair in sight. But my soul has aged this year, I have seen things and been places and met people that have forever changed me.
And so, when contemplating on how in the world I could suddenly let every social network and every person I meet know that I'm 30, no turning back, no denying it, not able to move that needle backwards or forwards, I thought about my past, my present, my future and have decided that I'm ready for what 30 has to bring. My favorite compliment from the past week? "It's amazing, you're so much more worldly and grown up but yet you actually look younger." Here's to an absolutely amazing new decade. I'm anxiously anticipating every moment.
xSloane.
If you liked this post, you might like: 9 Favorite Posts of the Last 6 Months The Humanitarian Introduction To Yours Truly: Meet Sloane Berrent
Read more ...
Kiss and Make Up
Women's Philanthropy Institute's Newest Council Member!
My Women's Equality Party Vote Is Dedicated To…
Road To 50
You're Invited! ASPCA Young Friends Benefit
... and more posts from the archives