$100k Raised In 72 Hours for Autism
February 24th, 2011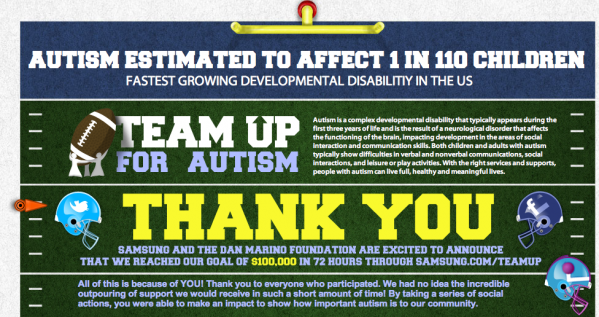 This is the second post in a series about a recent campaign I worked on with Samsung Hope for Children, the national philanthropic initiative of Samsung, The Dan Marino Foundation and JESS3.
Together, we launched a new social action campaign, "Team Up for Autism," in conjunction with the first annual WalkAbout for Autism that I wrote about in my last post here.
The initiative set about to help raise awareness and funding in support of medical research, services and treatment programs for children with autism. Samsung pledged to contribute up to $100,000 through this social action challenge, providing a donation of $5 to the Dan Marino Foundation each time someone pledged their support of autism awareness by checking into WalkAbout Autism on Foursquare, sharing an infographic with their Facebook friends or sending a tweet with the hashtag #teamautism. JESS3 created the infographic and I worked with them on the overall digital strategy.
In just 72 hours, we were able to reach our goal of $100,000! To see the infographic click over to TeamUpForAutism.com. It was amazing. We thought it might take a few weeks to reach our goal. What made this campaign special? I think there are a few factors.
First, 1 in 110 children are now said to be diagnosed with autism. That means that just about everywhere you turn people know someone or are related to someone with autism. That's a powerful base.
Second, during this campaign all of the partners came on board to help spread the word. Many times in campaigns, one of the partners wants to be more involved but for a variety of reasons just isn't. That affects every single social action. You never know where your most passionate supporters will come from. In this case, we all worked together, setting expectations before launch, and that made a huge difference.
Third, evangelists. I am blessed to know Tim Welsh (@tannersdad) for a few years now. He is an amazing advocate for autism and finding a few key people who understand social media and the autism community provided to be a huge value-add for this campaign. We also saw tweets during that period from Alyssa Milano which brought a huge traffic surge. The caveat is that you can't guarantee a celebrity will pick up on a campaign and you also can't guarantee that if a celebrity does pick up on something it will get traction. But in this case, her tweet with the hashtag #teamautism made a huge push.
Fourth, the infographic. JESS3 has an incredible eye and amazing team to create data visualization. The infographic clearly said everything it should. What the campaign was about. Who was making the donation and who was receiving it. And most important what you had to do to help. So many amazing campaigns get lost in the execution. The actual social actions don't make sense or have too many steps. Simple is the name of the game. This infographic was beautiful but simple.
Fifth (and last) the strategy. I have worked on a number of campaigns and knew going in that the difference would be in the preparation. We worked really hard behind the scenes before the campaign launched. Too many times a campaign launches and then people shift into high gear. It doesn't always work out. You have to hit the ground running and be able to account for a variety of scenarios that could come at your that critical first 24 hour period. We had an army on the ground ready to support us once this launched due to lists we created of influencers and early outreach and engaging our networks in advance. All of this happened before the page TeamUpForAutism event went live.
A big thank you to everyone who participated in this campaign. Together we made this happen! If you'd like to write a blog post or would like more details about this campaign or an interview with anyone, please contact me directly.
To read more about the campaign, check out the following articles:
Mashable SocialBrite WhatGives Amy Sample Ward Nonprofit.About.com CafeMom The Stir JESS3 blog
Read more ...
Kiss and Make Up
Women's Philanthropy Institute's Newest Council Member!
My Women's Equality Party Vote Is Dedicated To…
Road To 50
You're Invited! ASPCA Young Friends Benefit
... and more posts from the archives